Are you still wasting your time,
collecting horse racing information?
Vision
Stop Losing Time - Find Relevant Information Quickly and Easily.
We provide the tool of choice for all horse racing enthusiasts wishing to have the relevant global information at their fingertips.
Mission
We provide easy access to horse racing information visualized in its context for different stakeholders.
Values
Quality is our top concern! Whenever possible, our information is based on original data unless they are obviously wrong.
Stay up to date
Are you still searching or are you already informed? Do you have the skills to get your data on worldwide platforms and the right method to hold them updated?
To search in different tools is one thing – to hold this data updated is the other reason, why we offer these services.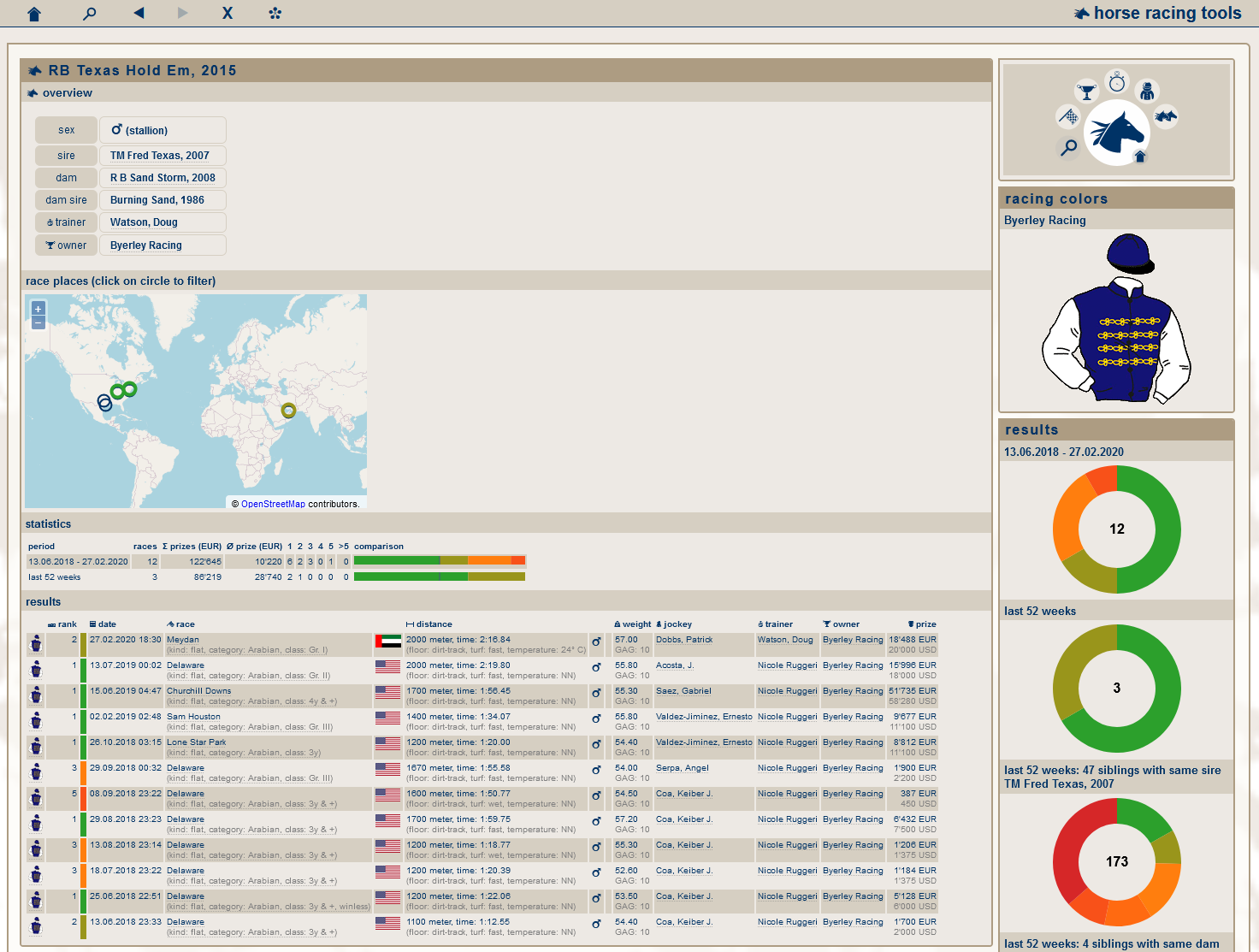 Geri Moser, CEO & founder
About Us
Necessity Is The Mother of Invention.
We combine our enthusiasm and knowledge of horse racing with the latest data analysis and visualization at a global scale.
Who We Are
Our team consists of horseracing enthusiasts and data scientists fascinated in international racing and breeding.
What We Do
On a single platform we integrate data from around the globe and provide easily accessible, augmented services.
These tools are a must
horseracing.tools is an amazing informative site for international Arabian horseracing covering all elements at a single point of access, including pedigrees, trainers, horses, jockeys, raceforms and statistics. These tools are a must for any Arabian horseracing enthusiast at any level.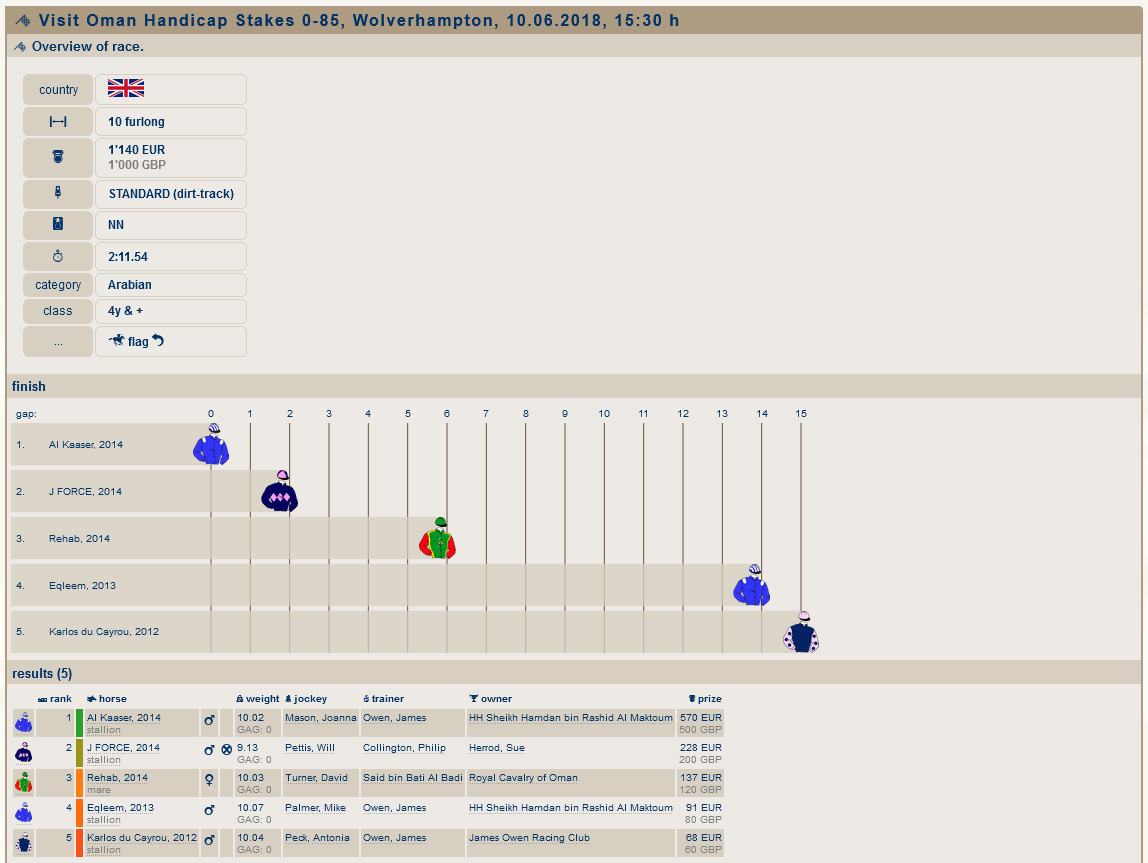 Genny Haynes Commercial & Finance Director Arabian Racing Organisation Ltd
Free Tools
Online Worldwide Race Calendar
We offer two free race calendars. Both deliver pre-race and after-race information. Each contains race cards, visualized race forms, and a comparison between the running horses. A consistent coloring scheme simplifies and supports the instantaneous comprehension of the huge amount of information available. Both WebApps are accessible by mobile devices.
Free arabian.horseracing.tools
Race Calendar for Purebred Arabians: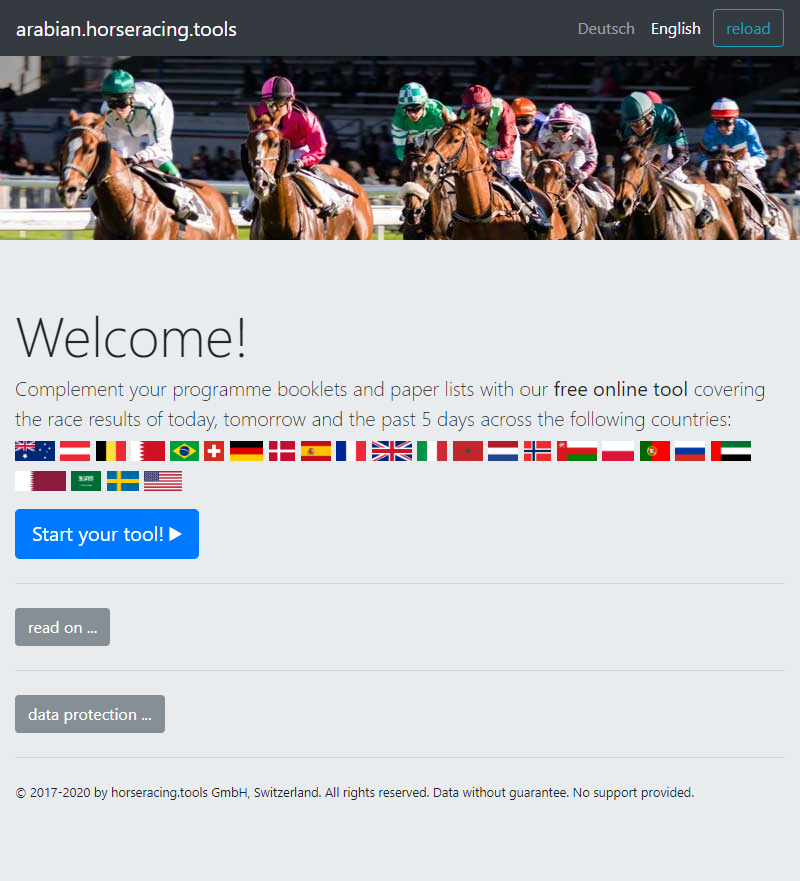 Free mobile.horseracing.tools
Race Calendar for Thoroughbreds: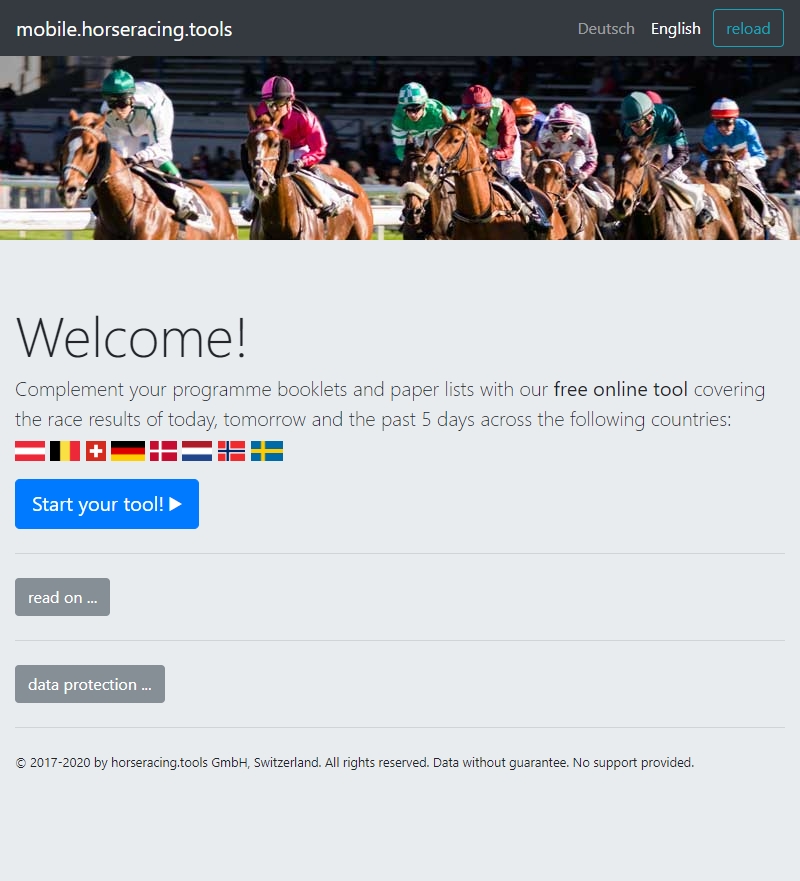 Our Services
We Offer Services for Racing and Breeding.
Making worldwide data available in a high quality is a tedious job. If you are interested in the global developments of horseracing, you may not have the time to find, organize, and integreate the dispersed data. You may lack the required language, currency conversion and other skills needed to unify the data to make them comparable at a global scale. Our team has these skills. horseracing.tools organizes the flood of data for your convenience. Proper analysis and visualization tools deliver an optimal foundation for your information needs.
Free Public Online Worldwide Race Calendars (WebApps)
We integrate and visualize data from different sources and make them available on mobile online-tools including race cards, race forms, results, and head-to-head comparisons.
"horse racing information and analysis tool" (horiat)
Our nonpublic web portal "horiat" offers comprehensive data, visualized in its context. Completed with a powerful search engine, cross references, and analyses your browsing becomes an information experience.
Roadmap
Further Extend Data Coverage and Tools
We want to provide all interested parties with high quality, visualized global horse racing and breeding data.
Current Focus
We focus on global racing and breeding data to get the big picture. We have already a good overview of the Purebred Arabian scene. Currently we are working to increase the coverage for Thoroughbreds.
Next Steps
Our "horse racing information and analysis tool" (horiat) will be released as a next step. In addition, we want to intensify the collaboration and include additional national and international racing and breeding associations.
Investor Relations
Concept - Seed - Early Stage: Done. Now Looking for Growth Capital.
Our start-up has released two productive online race calendars and developed a prototype for our unique "horse racing information and analysis tool" (horiat). For the scaling phase we are looking for financial support.
Where We Stand
We have set up processes and tools to integrate horse racing and breeding information from different sources and countries on a daily basis. On the one hand, we use this knowledge to provide our two daily updated online race calendars for Thoroughbred and Purebred Arabian. On the other hand, we have developed a prototype for our "horse racing information and analysis tool" (horiat) with integrated data and analyses covering more than 20 countries.
Financials
We are looking for an investor to finance reaching productivity level, and later on, the growth of our cutting-edge "horse racing information and analysis tool" (horiat).

We would be pleased to send you more information.
You can reach us.